Wal-Mart Stores, Inc. (NYSE: WMT) has been facing negative sales in the United States for the past six quarters, not counting newly opened or closed stores. This year, return on investment for the giant discount retailer dropped to 17% from 20% seven years ago.
The company's store suffers from both sluggish sales and dwindling traffic. Wal-Mart also faces competition from online retailer Amazon.com, Inc. (NASDAQ: AMZN) and quickly expanding dollar store chains.

The company is one of the top leading retailers in overseas countries such as Canada and Mexico. However, it has struggled in country after country as it tries to expand beyond its North American reach.
Regulatory issues from ununionized workers and accusations of bribery also plague the discount retail giant.
Doug McMillon, Wal-Mart's new chief executive, is struggling to pull the company out of the ashes. Its main priority is to increase growth by increasing revenue. In order to get to 1% of growth, the company must achieve just under $5 billion in further sales.
The solution? Switch from huge behemoth superstores to smaller convenience and grocery-type stores. This is the first time in the company's history that they plan to downsize stores rather than grow them.
Wal-Mart plans to build Wal-Mart Express and Neighborhood Market stores at 10,000 to 40,000 square feet – a tiny fraction of the 200,000 square foot supercenter stores it operates now. Customers will also be able to pick up items ordered online at these smaller stores.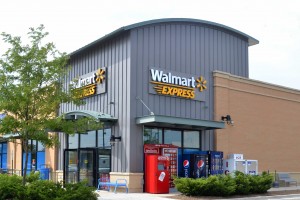 The company also plans to make changes to its pricing model. Instead of "everyday low prices" Wal-Mart plans to take a page from Amazon's book, and use a dynamic pricing method, where the prices of its products change frequently to reflect shifting data and competitors' prices.
Another Amazon-like change Wal-Mart plans to implement are features like "deal of the day" or "deal of the hour".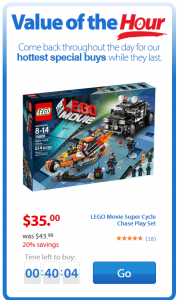 Wal-Mart actually pulled ahead of Amazon last year in its web sales growth rate. Online sales for Wal-Mart rose 30% last year to $10 billion. In comparison with Amazon, the online retailer reported only a 20% growth in sales to $68 billion. Most of Amazon's revenue comes from sales of electronics, media, and other products.
Wal-Mart's focus on its online revenue illustrates its desire to get into the e-commerce market. At the end of last year, Wal-Mart invested about $500 million into its e-commerce side, such as three new online order fulfillment hubs. Wal-Mart stated that it plans to spend an additional $150 million this year on its e-commerce investments.