Carl Icahn wants Apple Inc. (NASDAQ:AAPL) to repurchase $100 billion shares, as soon as possible.  Carl Icahn published a letter on his tumblr stating his desire for Apple Inc. (NASDAQ:AAPL) to increase its share buy back program.  Apple Inc. (NASDAQ:AAPL) is in no rush to make any changes to their current buyback plan.  The billion dollar company has most of its funds tied up in overseas accounts, which makes it difficult to bring the cash back.  Doing so can possibly incur a tax by the US government.  Some believe Tim Cook should forget about the stock price valuation, and instead should focus on putting funds into Research and Development, to build better and revolutionary products.
Below is a chart which depicts Apple's current shares buy back program and plan: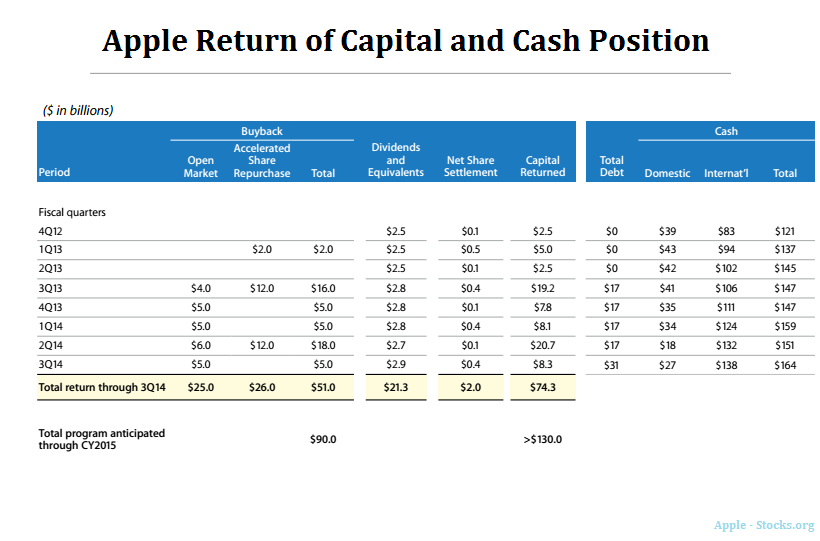 (Source: Shareholder.com)
Icahn wishes Apple Inc. (NASDAQ:AAPL) to speed up its stock repurchase activities.  The tech giant has stated:
"We always appreciate hearing from our shareholders.  Since 2013, we've been aggressively executing the largest capital return program in corporate history.  As we've said before, we will review the program annually and take into account the input from all our shareholders."
Thanks to Icahn, who was Apple Inc. (NASDAQ:AAPL)'s largest shareholder.  He recommended the share buy back program of which Apple took action.  Here's a chart which depicts how aggressive Apple has been in their share buy back program.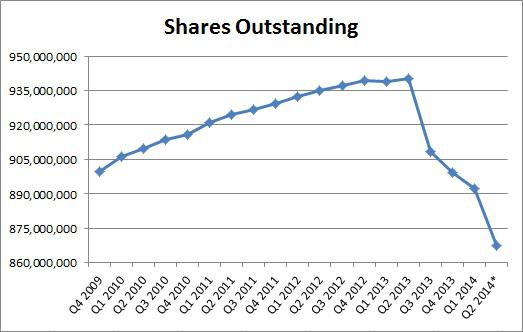 Without a proper share buy back program, investors will complain about the low EPS growth.  Apple is resorting to smart financial engineering to prop up their stocks, as they search for new innovation.  The outcome would be worse if Apple Inc. (NASDAQ:AAPL) announced a year-over-year decline in EPS.  Therefore, buying back shares is the best strategy for them as they are able to show positive EPS growth.
What happens when a company doesn't do a share buy back?
Take a look at Intel (NASDAQ: INTC).  The chip company stalled its share buyback program in 2013, reducing its buyback by 50%.  As a result, their earnings took a hit and they failed to meet analyst earning expectations three out of the four reported quarters.  These misses could be avoided if Intel had just bought back the same amount of shares.  Instead they were allocating their capital into Research and Development.  Strictly from an investor perspective, immediate buy back would make the company look better, and additional institutional investors would help bolster the shares.  Intel (NASDAQ:INCT) can be cited by some, to be doing a responsible thing by investing their funds into Research and Development.  The stock suffered at least 10% due to failure of continuing with a shares re-purchasing strategy.
Apple has been successfully investing into research and development, with $4.8 billion allocated for 2013.  This amount was 83% greater than their prior spending in 2011.  Even management confirmed they are continually spending more into R&D:
"Katy Huberty (Morgan Stanley): And Peter, you're guiding OpEx flattish sequentially, despite the big revenue downtick. Are there any one-time items in SG&A and R&D in the March quarter? Or is the run rate reflective of investments for future opportunities?

Peter Oppenheimer (Apple CFO): It's definitely the latter, and let me have Luca take you through some details.

Luca Maestri (Apple VP and Corporate Controller: Yes, at the midpoint of the range of our guidance, we are expecting a minor decrease of $50 million. This is largely due to the lower variable expenses that we're going to have, in line with the seasonal sequential decline in revenue. But one thing that Peter already mentioned in his remarks is that we continue to invest very heavily in R&D. We make investments in areas that are visible to all of you today, but also in areas that are not visible, which we're very excited about. And for the things that are not visible to you, obviously were impacting ahead of the revenue that these products and services will generate in the future. So there is nothing that is one-off in nature in our guidance."
Some feel that Apple already spent enough into R&D, and spending additional funds would not increase the chance of success for their products.  More expenditure on R&D would result in lower net income and EPS.  There is no guarantee of future products and their potential success.