The largest professional network on the Internet announced today that it will be acquiring Bizo.
Founded in 2003, LinkedIn Corp (NYSE: LNKD) is the largest professional network on the Web in the world, with more than 300 million users. Its users include executives from every Fortune 500 company, and aims to make professionals around the world more productive and successful. The company boasts a diversified business model, and has revenue coming in from Talent Solutions, Premium Subscriptions, and Marketing Solutions products. The company is based in Silicon Valley, but has offices all around the world.
Bizo is a leading company in business audience marketing. The company provides technology and products that allow users to measure display and social advertising programs that are specifically geared towards professional audience divisions. Founded in 2008 by Bryan Burdick, Russel Glass, Mark Dye, Lee Bryne, Donnie Flood, and Yonatan Stern, the company is based on San Francisco. It raised a total of $20 million in venture capital funding, and its investors list includes Crosslink Capital and Bessemer Venture Partners. The company also has $12.5 million of debt. Last year, the company did about $22 million in revenue.
Sources say that LinkedIn paid roughly $175 million for Bizo – about 10% in stock and 90% in cash. The transaction is expected to close during the third quarter of 2014.
Business to business markets use Bizo to target prospective clients in the professional segment of the market. Bizo guides marketers at each step in their sales and marketing path. Powered by exclusive data management and targeting technology, Bizo's platform provides users accurate and measurable multi-channel marketing campaigns. The company has helped brands meet their objectives by determining and displaying the right message to the right audiences on the Internet.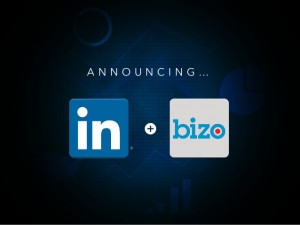 Deep Nishar, the SVP of Product and User Experience at LinkedIn, expressed his excitement in being able to bring Bizo's expertise and technology into LinkedIn's space. "Our ability to integrate their B2B solutions with our content marketing products will allow us to grow and develop into the most effective platform for B2B marketers to engage professionals."
Russell Glass, CEO and Co-Founder of Bizo, stated that the company has been a partner of LinkedIn for some time, and it has become certain that the two company's goals and cultures and very much compatible and well fitted for each other. Glass said, "I couldn't be more excited that our two companies are joining together to increase our ability to get to professional audiences, nurture prospects, and gain customers in truly amazing ways."
The company also expects that many members of Bizo's team will join LinkedIn's staff.