Today, Plug Power Inc (NASDAQ: PLUG) will post its quarterly earnings report for the second quarter of the 2014 fiscal year. Analysts and investors are looking for the company to report revenues that have more than doubled year over year. Plug is also expected to report a loss of $0.04 a share and revenues of $16.73 million for this quarter. This is an improvement from the predicts from the same quarter one year ago – a $0.10 loss per share.
Power Plug Inc is a alternative energy technology provider that focuses on the design, development, manufacture, and commercialization of fuel cell systems for the industrial off road market, which includes forklifts and material handling machines.
Investors Doubt Plug
Ever since March of this year, the shares of Plug Power have been rather volatile. On March 11th, the company's stock reached a record high of $12 per share. Since then, investors have been focusing on certain red flags in the company's operations. According to a report from an industry expert, manufacturers of fuel cells have been struggling to perform well against providers of natural gas, which is a less expensive alternative. Hydraulic fracturing in the United States has also significantly increased, making natural gas an abundant resource.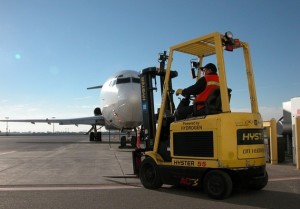 However, the main reason Plug's shares have been jumping all over the place is the news regarding the company's new orders. Multiple major companies, such as Wal-Mart Stores Inc (NYSE: WMT) have put in orders for Plug's GenKey forklift system. This deal with Wal-Mart, which was announced on July 29th, pushed Plug's stock price up by 11 percent.
Unfortunately, Plug missed estimations for the last quarter. Investors waiting to hear tomorrow's earnings report will be anticipating the question about the company's sales opportunities.
What To Expect For Plug's Earnings Report
The alternative energy provider has predicted that it will make about 650 shipments of its GenDrive systems to several customers during this quarter. As for bookings, Plug Power Inc expects to pull in $150 million for the entire fiscal year. The company's management board predicted at the end of the last quarter for two thirds of this number to be completed by the end of this quarter. This means that if the company reports to have completed less than $100 million of bookings, it would have missed analysts' expectations.