Tesla Motors Inc (NASDAQ: TSLA)'s CEO Elon Musk stated at the annual shareholder meeting last month that he was confident that Tesla would be able to roll out vehicles that could take the user from the highway entrance to the highway exit without touching any controls.
We have not yet seen the technology that Musk is talking about with his self driving cars. However, analysts and experts in the industry have pinpointed one company that could provide the technology to power Tesla's self driving cars. Mobileye, a company based in Israel, provides advanced safety technology for auto makers. This company could be the one that is responsible for Tesla's enhanced machine auto pilot system.
However, it is very important to note that this is all just speculation. Mobileye has not been confirmed to be Tesla's partner in making its electric vehicles autonomous.
But the evidence is overwhelming.
We do know for certain that Mobileye is working with Tesla on something. Simon Sproule, vice president of communications at Tesla, confirmed that the electric car maker does have a business relationship with the Israeli company. Sproule refused to reveal any more details about their relationship.
Currently Mobileye's capabilities only cover minor safety features that utilize machine vision to help avoid accidents. However, the company's technology gives it the ability to reach much higher.
Additionally, Musk has expressed his interest and preference for machine vision over Google Inc (NASDAQ: GOOG)'s radar technology. This further supports the speculation that Mobileye and Tesla have teamed up to create an autonomous car.
In an interview with Bloomberg in 2013, Musk admitted that the main issue he had with Google's radar system was that the sensor features were much too expensive. An optical system, such as the one used by Mobileye, makes much more sense because the software and the camera is able to determine what is going on just by looking at images.
Will The Model X Be The First Autonomous Car?
When Musk said that Tesla will release a self driving car by the end of the year, many investors assumed that he was referring to the Model X.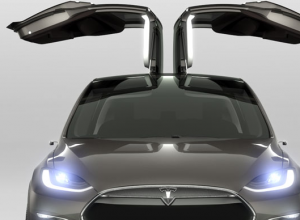 The photos of the Model X on Tesla's website already feature the vehicles with cameras on the side of the vehicle. One challenge that Tesla must face with installing these cameras is the overturning of regulations that require side mirrors, so that side cameras can be used instead. Tesla, and other auto companies like Volkswagen ,Toyota, and General Motors, filed a petition yesterday with the National Highway Traffic Safety Administration to seek permission to overturn the rule.
However, Tesla's self-driving car really isn't that far of a leap in terms of innovation. It's only a tiny step up from he built in active cruise controls and lane sensing systems that come with many new luxury vehicles.
In order for its technology to be revolutionary, Tesla will have to shoot for even more ambitious features than the equivalence of what current technologies offer. For example, a car that automated lane changes, complete highway navigation, and others that would require much more advanced technology.